Transportation
Coming to Angers:
Accessible by car, train or plane, Angers is well connected and centrally located in the heart of Europe. With 90 European cities located less than a half-day's journey. Angers is easy to access for business professionals with a busy schedule. For an international event, visitors can arrive by plan by choosing between the local Angers-Marcé airport (15 minutes from the city center), or national and regional terminals at Paris Charles de Gaulle and Nantes. For a quick and clean getaway, Angers is connected by the TGV train rail, which runs daily, connecting visitors to destinations such as London, Paris and Brussels in a few hours.
---
Coming by plane:
Paris Charles de Gaulle (CDG) International Airport connects many national and international cities. From Angers, you are 2 hours and 20 minutes away by train. Learn more information at www.parisaeroport.fr.
Nantes Atlantique Airport connects many international cities thanks to airlines such as Air France, Ryanair, Easyjet, Aer Ann, Iberia and Atlas Blue. From Nantes Atlantique Airport, you can take a shuttle to downtown Nantes, then take the train towards Angers (travel time: 30 minutes).
Learn more information at www.nantes.aeroport.fr. (French Website only)
---
Coming by train (Angers Saint-Laud):
By TGV high-speed train from Paris Montparnasse train station:
Travel time 90 minutes
15 departures per day
more information on www.voyages-sncf.com, the French train service (SNCF) and on www.ratp.fr, the Paris public transport company.
Paris-Montparnasse train station can be reached:
for travellers by the hourly Air France shuttle bus (travel time approx. 50 minutes) or by RER line B to 'Chatelet-les halles, then change to Metro line 4 direction 'Porte d'Orléans' (travel time 45 minutes).
for travellers best by the Air France shuttle bus (every half hour, travel time approx. 35 minutes).
for travellers on Paris Gare du Nord by metro line 4 direction 'Porte d'Orléans' (travel time approx. 20 minutes).
By Eurostar (tickets bookable four months maximum in advance):
Through-tickets are available from several cities (in the UK, Belgium and the Netherlands, plus Cologne and Aachen in Germany), directly to Angers, and may work out cheaper.
Tickets may be via Paris (change stations as above) or via Lille (no need to change stations). The Lille route usually takes approximately 30 minutes longer.
More information on www.eurostar.com
---
​ Coming by bus: 
Angers can also be reached by buses. It is a cheaper way to travel if you have time :
Please note that information is subject to change.
---
Coming by car:
Motorways: A11 (Paris-Nantes), A85 (Tours), A87 (La Roche-sur-Yon)
Estimated driving times :
3 hours from Paris on Motorway A11
4 hours from Paris Charles de Gaulle airport
1 hour 15 minutes from Nantes-Atlantique airport (45 min from Nantes down town)
1 hour 45 min from Rennes
3 hours 40 min from Bordeaux
To rent a car:
Please make sure you park your car in a public car-park. They are all paid parking. Outside car-g is also available. Most of the outside parking lots are also available for a fee. Be aware that some streets and therefore outside parking are blocked for the outside markets. It is usually warned by the following road sign :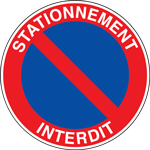 It also indicates the date and timing of the restriction.
Visa application
All foreign nationals wanting to come to France must be able to submit statutory documentary evidence at the border for the reasons for their stay, their means of support and accommodation arrangements.
​As a rule, unless you are exempt, you are required to have a visa. It must be applied for from the relevant French embassy or consulate in the applicant's country of residence. If you are a national of a European Union (EU) Member State other than France, of the European Economic Area (EEA) or a family member of a national of an EU Member State other than France, the EEA or Switzerland, specific provisions of EU law apply:
More information is available on the website of the French Ministry of Foreign Affairs and International Development:
​Under the terms of the Convention Implementing the Schengen Agreement, flights between Schengen states are considered to be internal flights and passengers do not need to obtain another visa.
In order to apply for an official invitation letter to apply for VISA, first you have to be registered and have booked accommodation. Then, we will send you an official invitation letter to apply for VISA.
Useful information
Official language:
​Our official language is French. Hotel staff will speak English. It is not necessarly the case for restaurant or shop staff.
The conference will be held in English and French. Translation will be possible during the conference.
​ Climate and Clothing:
It will be summer in France in August and the temperatures can vary from 25 to 35°C. Please make sure you have brought adequate clothing. Weather information and forecasts on: http://france.meteofrance.com/
​ Electricity:
​In France the electrical voltage used is 220/230V. Please note that plug adapters and converters might be required.
Banks and currency exchange:
​The currency is the EURO (€). You can pay by credit card in most places : restaurants, hotels, touristic sites, shops. Some places accept payment by credit card for a minimum amout of 10 or 15 €.
​Cash is also allowed. You may get cash at local ATM. Should you need to exchange money, there is only one in Angers :
Change:
28 rue de la Röe
49100 Angers - France
www.change-et-or-angers.com
Banks:
Monday – Friday: 9.00am – 12.30 / 2.00pm – 7.00pm
Saturday: 9.00 am – 12.30 pm
Closed on Sundays
Currency exchange office in the train station:
Monday – Saturday: 9.00am – 12.30 / 1.30pm – 6.00pm
Closed on Sundays
In France, the most commonly used credit cards are: Visa, American Express, Diners Club, Europay / MasterCard, JCB and Maestro.
ATM Machines will accept also most of these international cards.
Tax and VAT:
Visitors to France who are not resident in any of the European Union member states can be reimbursed for the VAT (Value Added Tax) paid on purchases that they have made in France and are being transported in their personal luggage. Only private individuals can benefit from this reimbursement. Detailed information can be seen in the following websites:
Tipping:
Service is included in the bill in restaurants. You are not obliged to tip as waiters in France are paid at a minimum wage. You may leave a tip if you wish so and no minimum amount is required.
​ Phone calls: 
When calling nationally, the number will include the « 0 ». Example : 02 47 36 69 11
The international code for France is +33.
When calling internationally, the number will exclude the « 0 ». Example : +33 2 47 36 69 11
Useful phone numbers:
Hospital - CHU Angers (University Hospital of Angers): +33.2.41.35.36.37​
Post office: 3639
Taxi cab - Allo taxi Angers: +33.2.41.87.65.00.
In case of emergency: 15
Police: 17
Firefighters: 18
Emergency: 112
​ Insurance: 
Organizers of the Global Symposium do not accept any liability for personal accidents or injury or loss or damage to private property of any participant indirectly arising from travelling to France and/or attending the Congress. Participants are advised to purchase adequate travel and health insurance before leaving their own countries.
The organizers are not liable for damages and/or losses of any kind which may be incurred by the conference delegates or by any other individuals accompanying them, both during the official activities as well as going to/from the conference. Delegates are responsible for their own safety and belongings. The registration fee does not cover insurance for delegates. The organizers recommended that delegates take out insurance in their home country to cover pre-journey cancellation for personal reasons and necessary insurance to cover accidents, medical expenses and loss of personal belongings during the visit. No vaccinations are needed when visiting France.
​Force Majeure:
The organizers are not liable for any claims for damages and/or losses if the entire conference has to be cancelled due to a force majeure incident.
In case of cancellation, no refund will be made.
Safety and Security:
In general, France is a very safe country. However, be aware of pickpockets and be careful when crossing streets. Passports should be kept in the hotel safe until the departure day. Also note the serial numbers of your traveller's checks if you are carrying those. We also recommend having copies of your passport and credit cards with you in case of loss or theft. There is no need to carry too much cash either.